After years of R&D, the SOLAS company has developed their own series of rubber bushings with a stronger and more durable rubber compound.
They are not easily pushed into the hub of the propeller and we do not use heat as other repairers do so our grip force far exceeds theirs and helps
prevent the propeller from premature slipping.
please note: It is becoming more and more common that non SOLAS bushings are be used to rebush SOLAS propellers.
This will ultimately fail as our rubber composite it greater than other makers and they will not grip as well.
So for peace of mind and a Warranty on rebushing of SOLAS or SOLAS made propellers it is best to use Just Propellers WA to do the job.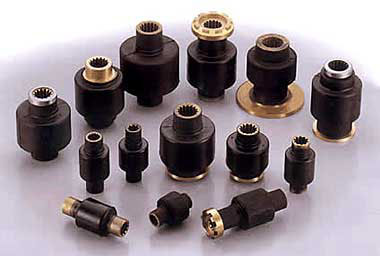 Group
Engine Brand
Part Number
Fit O/E Propeller
Price $AUS
5~9.8HP
Yamaha
Tohatsu
Y8-RB
T8-RB
NO
YES
no longer economical
A
Mercury/Mariner (95~) 25mm
Yamaha/Honda
OMC/Evinrude/Johnson
Suzuki
Tohatsu/Nissan
MA-RB
YA-RB
OA-RB
SA-RB
TA-RB
YES
YES
YES
YES
YES
no longer economical
B
Mercury/Mariner
Yamaha
OMC/Evinrude/Johnson
Suzuki
Tohatsu/Nissan/Honda (S/S Prop)
Tohatsu/Nissan/Honda (Amita)
MB-RB
YB-RB
OB-RB
SB-RB
TB-RB-1
TB-RB-2
YES
YES
NO
YES
YES
NO
$83.00
C
Mercury/Mariner
Yamaha/Honda
OMC/Evinrude/Johnson
Suzuki
Tohatsu/Nissan
MC-RB
YC-RB
OC-RB
YC-RB
YC-RB
YES
YES
YES
YES
YES
$90.00
D
Mercury/Mariner/Honda
Yamaha
OMC/Evinrude/Johnson
Suzuki
Tohatsu/Nissan
Force(~94)
MD-RB
YD-RB
OD-RB
SD-RB
YD-RB
YD-RB
YES
YES
YES
YES
YES
YES
$125.00
E
Mercury/Mariner/Honda (Amita)
Mercury/Mariner/Honda (S/S)
Yamaha (Amita)
Yamaha (S/S)
OMC/Evinrude/Johnson (Amita) 57mm
OMC/Evinrude/Johnson (S/S) 64mm
Suzuki (Amita)
Suzuki (S/S)
ME-RB-1
ME-RB-2
YE-RB-1
YE-RB-2
OE-RB-2
OE-RB-1
SE-RB-1
SE-RB-2
YES
YES
YES
YES
NO
YES
YES
YES
$125.00
F
SOLAS Bravo Two SOLAS BRAVO 2 DONT TAKE ANY OTHER BUSH TYPE BUT SOLAS
MF-RB
YES
$252.00
RUBEX KIT
ALL TYPES
$125.00
Volvo Penta
Aquamatic SP (Long Hub)
SX Drive (Amita)
SX Drive (S/S)
VA-RB
VE-RB-2
VE-RB-1
NO
NO
YES
$252.00