Information on Stainless Steel Series
The new generation of the SOLAS S/S propeller is made with ultra durable material. Unlike the traditional material, the new material is a true Stainless Steel. It will never get RUST and is also very difficult to be worn out. SOLAS offers three different series to meet different requirements.
To view the price List for stainless steel propellers choose an engine model from the following menu:

General Purpose Propeller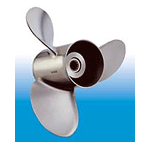 When looking for a durable and better efficiency propeller to replace your aluminum propeller, The Saturn series propeller is an ideal choice.
---
The New Saturn - allround Performance Propeller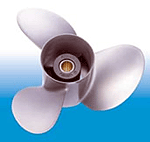 With their larger blade area and moderate cupping, the New Saturn propeller can operate in wide variety of loading conditions and still offer very good acceleration and top end performance.
---
The Titan - High Power Applications.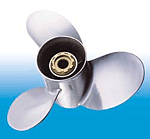 Titan propeller is designed with a high camber blade section and large blade area to provide better load carrying and fuel efficiency for the high power marine engine.
The newly developed MF Titan series propeller is specially designed to match the Bravo Twodriving system. With its excellent efficiency and performance makes the new MF Titan series the best choice for the sport fishing application.
---
The High Rake 3 - High Speed Applications.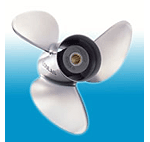 The three Blade High Rake series is very suitable for high speed planing hulls such as Ski Boat and Bass Boat. High rake blade design delivers outstanding acceleration and notable bow lift. Extra cupping ensures handling performance.
---
The HR TITAN4 - Excellent Cruising Performance.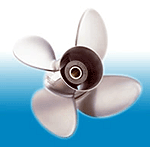 The Four Blade HR TITAN4 series has an exceptionally good handling capability, which is very suitable for offshore applications. With this propeller you can enjoy a nice and easy life.